Not Final Fantasy Article 02; The Witcher 2
May 03, 2012
I liked The Witcher 2 a lot, thought I'd share why,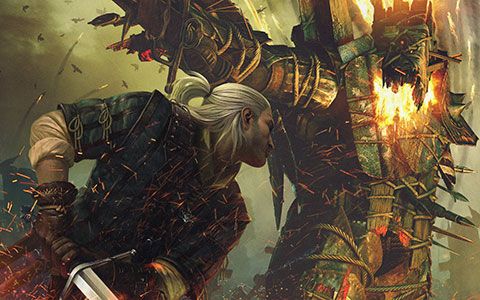 It's so refreshing to play an RPG focused on politics. The first Witcher game also had this with the struggles of the Scoia'tael (nonhumans) in Vizima, and while that struggle is still present in The Witcher 2, it is only just one layer in the game's complex political narrative. It might not seem like a big deal, but the focus on politics brings with it an almost forced emphasis on the characters - their motives and placement in the world - but also the world itself. Each major and minor character, even those who have no interest in politics (such as Geralt), can't escape the events that take place in the Northern Kingdoms. Following that, each area the game takes place in has it's own specific history and population. For instance, some places will be more accepting of nonhumans than others, so it's not uncommon to witness some legit racism in places like Flotsam. This is cool though as it really seems like you're playing in an established world instead of a place created just for a video game. Basically I find all this important because it makes me care about the story and the choices I have to make.
The more fantasy-like elements to the narrative, mostly concerning Geralt himself, are also handled well. I found myself really interested in the flashback scenes that had to do with the mysterious Wild Hunt, moreso than I was with it in the first Witcher anyway. Witchers, mages, dragons, and elves never feel out of place or silly. Though I do think more than a few elements borrow from Kentaro Miura's Berserk, especially the stuff with the Wild Hunt, but that's ok because Berserk rules.
With such a rich narrative, it's amazing how well CD Projekt RED implemented player choice into the game. Many recent RPGs have tried and failed (glares at Bioware) to add choices that significantly shape the story, but for reals - Witcher 2 is probably the best modern video game that does it, as the choices actually matter. Dialog options in the Witcher 2 aren't lame morality checks where one option has you be the boring paragon jesus, while the other casts you has the renegade asshole dick. Instead, each option reasonable, but different enough to warrant multiple playthroughs to see each outcome. Essentially the choices don't just amount to a different colored explosion at the end (glares at Bioware). In fact, The choices are so signficant that the entire 2nd chapter of the game is different depending on which bro you decide to tag along with.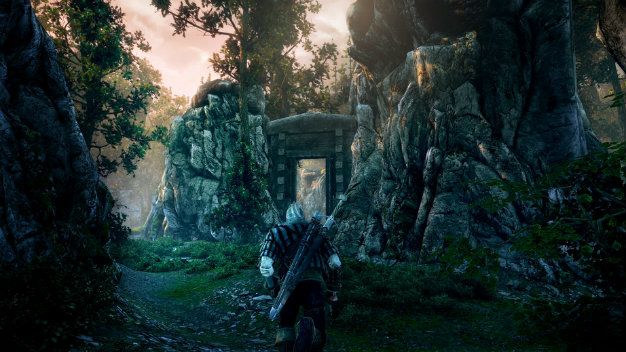 Oh yeah, this is a video game so let me talk about video gamey things such as gameplay. The gameplay rocks. I liked the decision to have Geralt start the game with all his signs unlocked (magical powers or whatever). So right from the start, you have all the tools you need to deal with whatever the game has to offer you, BUT (and this is important) it still requires you to make important choices when it comes time to level up. You don't gain enough levels to go far enough in every skill tree, so the decisions you make when leveling up will alter your playstyle. Outside the RPG stats stuff, the actual combat was also satisfying - which is actually probably one of the biggest improvements over the first game. There's a nice weighty feel to the swordplay, much like Demon's/Dark Souls, but also an emphasis on rolling/dodging and setting traps like Monster Hunter. It works really well and even on normal difficulty it keeps up the challenge all the way through.
Regarding the visuals, this is probably one of the best looking games on a console that I've ever seen. Even though it's not up there with the PC version, it still looks really good. Every time I loaded up the game, I would legit just stop for a sec and admire the whole thing. Not only because of the graphics, but aesthetically it's great as well. There was a good balance between the pretty vistas/lush forests and the absolute grimey shitholes. Then there are places like the 'battlefield' in chapter 2 that totally blow me away with it's outstanding lighting, color palette and ethereal atmosphere. Could tell a lot of love went into every area in this game, no matter how insignificant - just go inside a random villager's house in Flotsam and check out all the cool small details. Technically it holds up too, the framerate is a steady 30fps for the most part. Very impressive considering it's on the aging 360.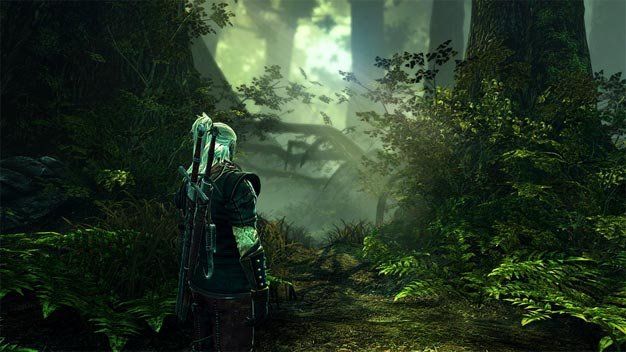 [Autistic ocd shit only I would complain about: These are very minor, but I should write something at least a little bit negative about this game. There's no in-game counter that keeps track of ones playtime. This seems like such an easy feature to have in games, so it always surprises me when it's absent in modern video games. I want to know how much time I've wasted with electronic entertainment, come on dudes. Also, the removal of the damage-log thing from the pc version was kind of a bummer. In RPGs I like to see exactly how much damage I'm doing, and just going by the little health bars on the top of enemies' heads isn't enough. I can understand that the log might take up a bit too much screenspace on the smaller resolution of consoles, but it would have been nice if they left it in the options somewhere.]
I'll end this by saying that CD Projekt RED really nailed it with The Witcher 2. The nuanced political narrative, coupled with genuinely exciting set pieces made for an overall amazing experience. There were enough RP elements and challenging twitchy action to appeal to a huge amount of people, without making any bogus compromises to pander to grannies and moms. By the end of my first playthrough, not only was I looking forward to replaying it, but it also has made me interested in the source material. Yeah, I'm going to state it, The Witcher 2 is definitely one of the best video games of this gen. Too many memorable moments for me to not at least give it that.
Article written by video games journalist for hire; Sam Balthier