FFX - Script - Raid on Bevelle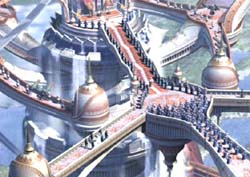 [Everyone's on the airship bridge]
Cid
"It'll take a while to get to Bevelle."
"Meanwhile..."
Tidus
"We prepare for battle!"
[A little optional text to explain things]
Cid
"They grabbed Yuna back in the Sanubia Desert."
"One of the Guado squads that attacked Home found her."
[Now, back to mandatory text. Tidus approaches Auron, who's in the bridge again]
Rikku
"What's Seymour doing alive?"
"Didn't we take care of him in Macalania?"
Auron
"He is dead. As dead as Jyscal was."
"His attachment to this world kept him from the next."
Rikku
"Whoa, scary!"
Auron
"Yuna must be trying to send him."
Rikku
"Wonder if that will work."
Auron
"Perhaps he won't expect it."
[Tidus talks to Wakka]
Wakka
"I'm glad Yuna's okay and all, but what's with those fancy clothes?"
Lulu
"It's called a wedding dress."
Wakka
"What!?"
[Tidus tries to leave the bridge. The airship rocks back and forth. Some strange noises are heard. Rin walks into the bridge]
Rin
"We're being attacked from within."
"Some of the Guado that attacked Home must have snuck on board."
Cid
"You're awfully calm about it!"
Rin
"I am calm about most things."
Cid
"Fiends! There's nothin' to do but--"
Rikku
[Jumping in front of Cid and impersonating his voice]
"But destroy the ship and all go down together!"
[He goes "Huh?". She sighs and shakes her head]
"You gotta learn a little restraint, Pops."
"If you crash the ship, we can't go rescue Yunie!"
"Leave the fiends to us professionals!"
Tidus
"Yeah! Let's go!"
Rikku
"Thanks."
Rin
"Rikku, you've made some very good friends, I think."
"Good luck."
[They go around the ship, attack and killing fiends. They reach the cabin of the ship, and look out the window. A huge dragon-like creature is flying outside]
Auron
"Huh, now there's a rare sight."
Tidus
"Whoa, that's huge!"
Rikku
"What is that?"
Lulu
"The guardian wyrm, Evrae."
"The great sacred beast--protector of Bevelle!"
Auron
"The red carpet has teeth."
Tidus
"Wait, that means we're close to Bevelle!"
[Cid's voice goes on the intercom]
Cid
"Rikku, you read me?"
"We're going to fight that thing!"
"Get on deck and show him what you got!"
"Go!"
Rikku
"There he goes again."
Auron
"The ferryman asks a high price."
[They go on the deck. The wyrm flies up and confronts them; it's considerably bigger than the airship. The top of the airship opens up, revealing lots of holes; missiles ready to fire]
Cid
"We gotta keep our distance, boy, but we can't let her get too far away."
"You all have to tell me when to move!"
"But tell me quick, eh? This rig ain't so nimble, you hear?"
Tidus
"Roger! I'll give the commands!"
Rikku
"Not alone, you won't!"
[Boss battle begins vs. Evrae. During the battle, Tidus and Rikku can "give the commands"; in other words, tell Cid to bring the airship closer, or pull it farther away. Anyways, they defeat it, and it dies. Scene returns to the bridge]
Brother
"Cruud! Fa'na mucehk bufan!"
("Shoot! We're losing power!")
Cid
"Rao!"
"E caa
Bevelle
!"
("Hey!")
("I see Bevelle!")
[FMV. The Ship, smoking, soars above the clouds, high into the sky, then descends rapidly through the clouds. Tidus and company hang onto the deck. We see Bevelle below, and the chime of wedding bells. Seymour walks up the aisle with Yuna. A legion of soldiers are there to protect them. Yuna continues walking, bouquet in hands. Two people beside her do the prayer gesture. Seymour and Yuna walk up the stairs. Thousands of pyreflies are above the city of Bevelle]
[Maester Kinoc is standing there. He looks up, at all the pyreflies. He motions with his hand; several guards step forward and ready their rifles]
[FMV. Through the clouds and pyreflies, the airship rapidly descends]
Kinoc
"Fire!"
[The guards fire relentlessly at the airship, still emitting black smoke from its back]
Seymour
"Come."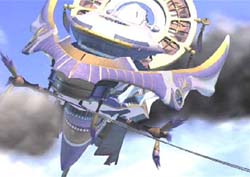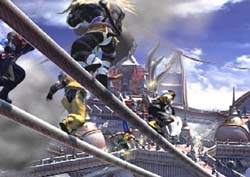 [He grabs Yuna's hand and walks up the stairs. Seymour, Yuna, and Maester Mika stare at the airship, flying by. The airship stops moving; two harpoons eject from it, smashing into the ground a ways away from Seymour and Yuna. The guards and even some of Bevelle's machina begin firing on the ship. Tidus, Auron, Kimahri, Wakka, and Rikku begin sliding down the metal harpoon string towards their destination; Kimahri is holding Lulu. Tidus flips from one harpoon string to the next]
[We see several guards, rifles ready, protecting Yuna and Seymour. The group reaches the bottom, and stares intently at Seymour, who's a good 400-500 metres in front of them, amidst a sea of soldiers]
Tidus
"Yuna!"
[They run forward. Constant soldier battles occur. Eventually, they reach Yuna and Seymour. I believe I made a mistake with the "Stop!" line here. It was said by either Kinoc, Seymour, or Mika...but I'm fairly sure it was Kinoc]
Kinoc
"This has gone far enough!"
"Stop!"
[Alot of rifles are raised by the guards surrounding them. Everyone keeps staring at each other. Yuna, holding her rod behind her dress, holds it out. Kinoc sticks a rifle in Tidus' face]
Seymour
"You would play at marriage just for a chance to send me?"
"Your resolve is admirable."
"All the more fitting to be my lovely wife."
[She starts sending him. A few pyreflies appear]
Mika
"Stop!"
"Do you not value your friends' lives?"
"Your actions determine their fate."
"Protect them..."
"or throw them away."
"The choice is yours."
[She puts down the wand. It drops down the stairs.]
Seymour
"You are wise."
[FMV: Seymour approaches Yuna. He holds her shoulders, and moves in for the kiss. Rikku gasps, Lulu looks away, Wakka gasps. Mika nods. They kiss. Tidus is pissed. Wedding bells ring. Claps are heard. Yuna's hand turns into a fist. Tidus is REALLY pissed. The kiss stops]
Seymour
"Kill them."
Kinoc
"I am sorry, but it is for Yevon."
Auron
"Aren't those weapons forbidden by Yevon?"
Kinoc
"There are exceptions."
[He sticks the rifle in Auron's face]
Yuna
"No!"
"Throw down your weapons! Let them go, or else..."
[We see Yuna is away from Seymour now, several steps from falling backwards over the edge and plummeting to her death. Seymour lowers his hand; the guards' rifles go down. Tidus runs up the stairs]
Yuna
"Leave now! Please!"
Tidus
"You're coming with us!"
Yuna
"Don't worry! Go!"
Seymour
"This is foolish. If you fall, you'll die."
[Yuna wipes her lips]
Yuna
"Don't worry. I can fly."
"Believe."
[Yuna smiles. She falls backwards]
Tidus
"Yuna!"
[FMV: Yuna's falling down. Everyone looks over the ledge. She summons Valefor while descending. He comes down and she lands safely on his stomach, as he descends. Scene returns to the group]
Rikku
"Cover your eyes!"
[She throws a grenade of some sort. Seymour looks down at it. All of a sudden, it goes off, blinding everyone. The screen goes white; some screams are heard]
Wakka
"Wh-What was that?"
Rikku
"An Al Bhed flashbomb."
Tidus
"Lemme go! I'm gonna kill that Seymour."
[Tidus is being carried away by Kimahri]
Kimahri
"Yuna said leave! We leave!"
Lulu
"We'll join up with her later!"
Auron
"Break through!"
[They reach the front of a building]
Rikku
"Where'd Yunie go?"
Kimahri
"Bevelle Palace is temple. Yuna goes to one place only."
Tidus
"The Chamber of the Fayth!"
[They enter the temple. A spiral staircase leads a loooooong way down]
Lulu
"It's too quiet."
"A trap?"
Tidus
"Who cares? Yuna's waiting for us!"
Rikku
"Huh?"
[She looks at the device at the top of the stairs. A rumbling noise is heard]
Wakka
"What's a machina doing in the temple?"
Rikku
"I suppose it comes in handy."
Wakka
"That's not what I mean! The teachings! What about the teachings?"
Rikku
"Hey, don't look at me!"
[They use the machina device to descend to the bottom of the temple. Once there, Rikku looks at another computer-type device]
Wakka
"Another machina? Man..."
Auron
"So this is Yevon's true face."
"They betray their own teachings."
[Wakka sighs]
Wakka
"They treated us like dirt."
[They go through the doorway, and Tidus walks a bit, meeting up with the group in front of a doorway to the next room]
Lulu
"The entrance to the Trials."
Rikku
"I wonder if Yunie's really in there."
Wakka
"Let's go and see!"
Lulu
"Let's go!"
[They go through the Cloister of Trials. They get to the room that leads to the Chamber of the Fayth]
Tidus
"Yuna?"
Wakka
"Inside, maybe?"
Tidus
"Then what are we standing here for?"
[Tidus stries to open the door leading to the Chamber. He struggles to open it, but can't]
Wakka
"H-Hey!"
Tidus
"You can stuff your taboos!"
[Kimahri helps Tidus. Together, they lift the door and open it. They nod to each other; Tidus walks in. Tidus walks into the chamber and sees Yuna praying to something which looks like a hologram. The thing she's praying to...is the short mysterious person that Tidus first saw back in Zanarkand! Tidus doesn't recognize it, though]
Tidus
"Wh-What's that?"
Auron
"A fayth."
"They join with the summoner, and together receive the aeon."
"They are human souls, imprisoned in stone by ancient Yevon rites."
"The dead should be allowed to rest."
[The fayth moves forward and enters Yuna's body. A bright flash of light occurs. She falls unconscious]
Tidus
"Yuna!"
[Auron walks out of the room. Tidus picks up Yuna and carries her out. The screen goes black]
Rikku
"Wait, don't come out!"
[Screen fades in on Tidus carrying Yuna out of the Chamber. The group is surrounded by guards with rifles. Kinoc steps forward]
Kinoc
"There's the last of them."
"You are to stand trial."
[Auron smirks]
Auron
"I expect it will be a fair trial."
[Kinoc has a short laugh]
Kinoc
"Of course it will."
[He looks at the guards. They run forward; screen fades to black. You get to name Yuna's new aeon... "Bahamut"]
"The High Court of Yevon is now in session."
"The sacred offices of this court seek nothing but absolute truth, in Yevon's name."
[We see that a Ronso is speaking]
"To those on trial: Believe in Yevon, and speak only the truth."
[We see Tidus and company - everyone - is gathered there]
Lulu
"Maester Kelk Ronso."
Kelk
"Summoner Yuna."
"You have sworn to protect the people of Yevon, true?"
Yuna
"Yes."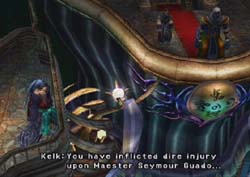 Kelk
"Then, consider:"
"You have inflicted dire injury upon Maester Seymour Guado..."
[The camera pans out. We see that Seymour is there as well, standing on a balcony to Kelk's right, and Kinoc to Kelk's left on another balcony. Standing behind & to the side of Kelk is Mika]
"conspired with the Al Bhed and joined in their insurrection."
"These are traitorous and unforgivable crimes that disturb the order of Yevon."
"Tell this court what possessed you to participate in such violence."
Yuna
"Your Grace..."
"The real traitor is Maester Seymour!"
"He killed his father Jyscal with his own hands!"
Kelk
"What is this!"
[Kelk turns to face Mika, then Seymour]
Seymour
"Hmm? Hadn't you heard?"
Yuna
"Not only that..."
"Maester Seymour is already dead!"
Lulu
"It is the summoner's sacred duty to send the souls of the departed to the Farplane!"
"Yuna was only doing her job as a summoner!"
Yuna
"Grand Maester Mika... Please, send Seymour now!"
[Kelk steps aside; Mika steps in front, to face Yuna]
Mika
"Send the unsent to where they belong?"
Yuna
"Yes!"
[Mika has a quick laugh]
"Maester?"
Mika
"Send the dead...hmm?"
[Several pyreflies leave Mika's body. Yuna gasps]
"You would have to send me, too."
Wakka
"What!?"
Kelk
"Grand Maester Mika is a wise leader. Even in death, he is invaluable to Spira."
Kinoc
"Enlightened rule by the dead is preferable to the misguided failures of the living."
Seymour
"Life is but a passing dream, but the death that follows is eternal."
Mika
"Men die. Beasts die. Trees die. Even continents perish."
"Only the power of death truly commands in Spira."
"Resisting its power is futile."
Yuna
"But what of Sin?"
"I am a summoner, my lord, like my father before me!"
"I am on a pilgrimage to stop the death that Sin brings."
"Are you... Are you telling me that, too, is futile?"
"Grand Maester Mika, I am not alone!"
"All the people who have opposed Sin..."
"Their battles, their sacrifices--were they all in vain?"
[Yuna is pissed]
Mika
"Not in vain."
"No matter how many summoners give their lives, Sin cannot be truly defeated."
"The rebirth cannot be stopped."
"Yet the courage of those who fight gives the people hope."
"There is nothing futile in the life and death of a summoner."
Auron
"Never futile... but never ending."
[Mika nods]
Mika
"Indeed, that is the essence of Yevon."
Yuna
"Lord Mika!"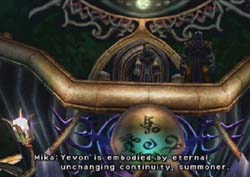 Mika
"Yevon is embodied by eternal, unchanging continuity, summoner."
Yuna
"No...that can't be right!"
Mika
"Those who question these truths--they are traitors!"
Yuna
"Lord Mika!"
[The screen goes black]