[The group reaches the entrance of a forest area. Rikku is still huddled up, walking alone. She notices there's no thunder or lightning. She unhuddles and stops moving. The rest of the group walks past her. She jumps up in joy and runs off-screen. Everyone's off the screen except for Tidus and Auron]

Auron
"You're worried about Yuna."

Tidus
"'Course I'm worried about her."
"What is she thinking?"

Auron
"The simplest answer would be..."
"in exchange for agreeing to marry him..."
"she hopes to negotiate with Seymour."

Tidus
"Negotiate what?"

Auron
"I wonder."

Tidus
"What? All by herself?"

Auron
"She's strong, but Seymour is the better negotiator."

Tidus
"Well then, why don't we do something about it?"

Auron
"Yuna wants it this way."

Tidus
"Argh!"
"I just don't get it! Doesn't she trust us?"

Auron
"On the contrary..."
"She doesn't want us caught up in whatever it is she's planning."

Tidus
"Yeah, that's what I thought."
"But that makes me worry even more."
"She could just tell us."

Auron
"That's the way she is."
"She's naive, serious to a fault, and doesn't ask for help."

Tidus
"You're probably right."

Auron
"Yuna's easy to read."

Tidus
"Yeah, she is."

[Auron begins to walk away]

Auron
"But hard to guard."
"Stand by her, always."

[Tidus nods. He meets up with the group]

Rikku
"Slowpokes!"

Tidus
"Sorry!"

"It's funny how calm I was."
"Maybe it was because I realized that Yuna wasn't marrying Seymour for love. Not really."
"It was just her duty--something she had to do before returning to her pilgrimage."
"That's what I kept telling myself, anyway."
"And well, maybe..."
"I realized that Yuna and I'd never... You know..."

Tidus
"Yuna, lets go."

[She nods; Rikku cheers. Everyone heads off into Macalania Woods. Along the way, Barthello runs up to the group]

Barthello
"Hey!"
[He reaches them, panting heavily]
"You, have you seen Dona?"

Tidus
"Dona? Can't say I have."

Wakka
"What's up?"

Barthello
"We got separated on the way here."
"Damn it all! I've got to find her!"

Auron
"Calm down."

Barthello
"But, if anything happens to her..."

Auron
"Running around in a panic is not going to help."
"Right now, you have to keep cool, and search."

Barthello
"But--"

Auron
"Guard your emotions, then guard your summoner."

Barthello
"You're right."

Auron
"Shall we search?"

Barthello
"No, I've taken up enough of your time."
"Thank you, Sir Auron."

[He does the prayer gesture, then runs off. Rikku runs to the front of the group, then stops]

Wakka
"What's up?"

Rikku
"Oh, I just wanted to wish him good luck."

[The group continues through Macalania Woods. They get to one area, where a man dressed as a bird walks to the group while playing a harp]

"A butterfly with rainbow wings will lead the way to secret things."

[A quick explanation of the Macalania Woods Butterfly mini-game is given. The group continues through the forest, finally arriving at one area. Auron, Yuna, and Tidus are shown]

Auron
"Wait."
"It is here...somewhere."

Tidus
"What's here?"

Auron
"Something you should see."

Yuna
"But, Sir Auron..."

Auron
"It won't take long."

[Auron slices repeatedly into a tree, clearing a path for them to pass through. He goes first; they follow him. The screen changes to where they're now standing, in a section of Macalania Woods; they're beside a lake, with a large tree past the lake]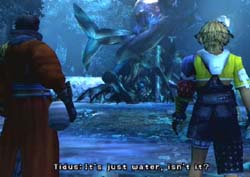 Tidus
"This place..."
"It's just water, isn't it?"

Auron
"This is what spheres are made of."
"It absorbs and preserves people's memories."

[Out of the water comes a large blob, which forms a big sphere]

Wakka
"What's that?"

Auron
"Fiends are also attracted to these places."

[Boss fight vs. Spherimorph. It gets destroyed, and melts. Afterwards, in the water, we see a sphere sitting. The group obtains a Jecht Sphere!]

Wakka
"Whoa, this is old! Don't know if you can play it back."

Auron
"Jecht left it here ten years ago."
[Everyone gasps]
"Play it back."

[Tidus plays it. The screen goes white]

Auron
[His voice sounds younger]
"What are you taking?"

Jecht
"Well, you said it was gonna be a long trip."
[We see Auron and Braska walking, with a large building in the background. Jecht is using the sphere like a videocamera]
"We'll be seeing a lot of neat things, right?"
"So I thought I'd record it all in this."
"To show to my wife and kid, you know."

Auron
"This is no pleasure cruise!"

Jecht
"Hey, Braska."
"Ain't this supposed to be a grand occasion?"
"Where're the cheering fans? The crying women?"

Braska
"This is it."
"Too many goodbyes--people think twice about leaving."

Jecht
"Hmm... If you say so."
"Well, it better be a lot more colorful when we come back."
"A parade for Braska, vanquisher of Sin!"

[Braska laughs]

Braska
"We should go. Day will break soon."

[The sphere gets turned off; the screen goes black. It fades back in on any icy landscape; a Travel Agency is in the background. Jecht and Auron are standing far apart; Braska is now controlling the sphere]

Braska
"Auron, you could stand closer to him?"

[Auron sighs, nods, waits a few moments, then goes to stand beside Jecht]

Braska
"Good. That should do it."

[Above their heads, we see a banner that says "Lake Macalania"]

Jecht
[Turns to face Auron]
"What's the matter? Afraid I might bite?"

Auron
"Jecht..."

Jecht
"Braska! You should take one, too. It'd make a great gift for little Yuna!"

Braska
"I suppose."

[Auron steps forward]

Auron
"Lord Braska..."
"We shouldn't be wasting our time like this!"

Jecht
"What's the hurry, man?"

[Auron walks towards Braska]

Auron
"Let me tell you what the hurry is!"

Braska
"Auron!"

[The sphere gets turned off; the screen goes white, and fades back in on Tidus and company]

Tidus
"What's the point? He wasn't on some pleasure cruise."

Rikku
"I think there's more."

[The sphere's turned back on again. The area that Tidus and company are now in is shown, with the same big tree in the background. The sphere turns off, then on again. Jecht is talking to the sphere, which he placed on the ground]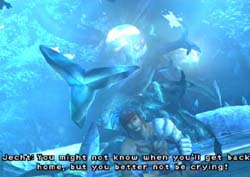 Jecht
"Hey."
"If you're sitting there, watching this..."
"It means you're stuck in Spira, like me."
"You might not know when you'll get back home, but you better not be crying!"
"Although, I guess I'd understand. But you know what?"
"There's a time when you have to stop crying and move on."
"You'll be fine. Remember, you're my son."
"And... Well, uh..."
"Never mind. I'm not good at these things."

[He stands up, walks off-screen, and turns the sphere off. He soon turns it back on, holding it like a videocamera again, so we don't see him]

Jecht
"Anyways..."
"I believe in you. Be good."
"Goodbye."

[Screen goes back to Tidus]

Tidus
"He sounded almost serious, but it was too late."

Auron
"He was serious."
"Jecht had already accepted his fate."

Tidus
"His fate?"

Auron
"Jecht... He..."
"He was always talking about going home, to Zanarkand."
"That's why he took all those pictures--to show them to you when he returned."
"But as he journeyed with us and came to understand Spira, and Braska's resolve..."
"It happened gradually, but Jecht changed."
"He decided he would join Braska in his fight against Sin."

Tidus
"So then, he gave up going home?"

Auron
"That was his decision."

"I guess I understood."
"My old man..."
"He knew there was no way back home, back to Zanarkand."
"He wanted to go home, but he knew he couldn't."
"He couldn't go on until he accepted it."
"Besides..."
"even if he had found a way back..."
"I don't think he would've left his friends behind before their journey was complete."

Tidus
"All right! Let's go, guys!"

"Maybe I had to start accepting my own fate."

[We learn that Jecht's spheres are hidden all over Spira; if you're interested in seeing what they say, there's a full scripting of them in the "Extras" section. Tidus goes to leave the area; Auron stops him]

Auron
"Wait."

Tidus
"Yeah?"

Auron
"Jecht loved you."

Tidus
"Oh, come on, please!"

Auron
"He just didn't know how to express it, he said."

Tidus
"Enough about my old man, okay?"

Auron
"I just thought you should know."

[He walks away]

Tidus
"Okay."
[He pauses]
"Thanks."